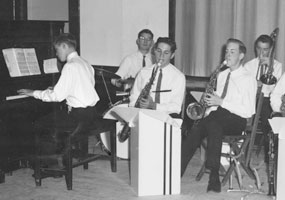 Getting Their Feet Wet
Phil and Bob's musical journey actually began in 1962, with the formation of a 7-piece dixieland band. It wasn't a glamorous beginning, playing gigs like the local PTA "Rancho Round-Up" and the Black Point boat ramp dedication in Petaluma, but the music bug had bitten them bad. None of the band members could agree on a name for the group, so they were simply known as... "The Group."
Photo: Bob on piano. Phil on sax on the right.